RM System offers its clients an effective and responsive organizational solution by means of a referral partner and a dedicated service management team.
Our Strategy : Adaptability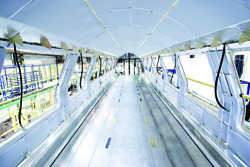 We aim to become the partner of choice in rail outsourcing through constant adaptation of our expertise and our resources to the demands of the market.

We aim to maintain an organisational structure that closely matches the needs of each project, through coaching and personnel that are attentive and responsive to our clients' needs.

We aim to actively contribute to making our clients' activities more sustainable and building their business by taking into account their quality constraints and requirements.
Our business: a complete outsourcing solution
For example, MI09 insulation.

RM System now boasts wide-ranging expertise in delivering the following services:

This approach can be implemented on other projects or other subsets.

Part of our strategy, however, is the decision to adapt our method to the needs and expectations of the client, rather than imposing our own method.

For this reason, our services can currently be delivered in a number of ways:
On the production site, on premises provided by the client.
Off-site, on RM System premises, most often through our logistics platform.
By relying on a network of partners in France, most often in the context of materials supply.
Innovative solutions
Through its responsiveness and flexibility, RM System offers solutions that are tailored to its client's growing business needs.
The mobile and multi-skilled nature of our teams means that RM System can respond rapidly to urgent requests. Our response times, which are typically measured in hours, make a real difference in service of the client.

These assets strengthen our commitment to quality and on-time delivery, and help us to maintain high customer satisfaction.